Hola amigos!
How are you guys all doing?? Here in the heatness of Guatemala everything is SUPER! Here another long update, because I have a Loooot to talk about! Yeah I know, it never ends!
First of all Sara´s family left for Holland again this morning. Her parents, causin and his girlfriend came to Guatemala for almost three weeks. Actually they chose a pretty bad time for a visit, because it´s summer here. April is honestly THE hottest month of the year, and we have definitely noticed that! I THOUGHT I was getting used to the heat, and that I wouldn´t feel the difference between 35 degrees celsius and 45 degrees celcius, but I WAS WRONG!!! I just can´t describe how incredible hot it can get here. You just have to experience that yourself I guess, but it is horrible! We shower four times a day, but it doesn´t do a thing! It sounds bizar, but to cool down, we shower with cold water, don´t dry ourselves, but we sit with our underwear, wet in front of a ventilator. Yeah I know, it sounds weird, but this is the only option to cool down just a BIT! Everyday 45 degrees is just not bareble! But we are still living, and I have to tell you that I have never sweated THIS MUCH in my entire life!
But anyways....back to Sara´s family. Because of the heat, they decided to do things really easy and relaxed. We would work hard in the morning, and in the afternoon we would go with them on some trips. Her family wanted to meet her host family in San Andrés, where Sara had lived for 3 weeks while studying Spanish. It was a whole experience for them!!! It was extremely funny to hear what they thought about different things that are already normal to us!
It was pretty funny, because we had brought a book with pictures from Holland. You have to realise these people do not have a tv there, and they probably have never seen much more then San Andrés or Flores, not even thinking about the rest of the world! Well, there was one picture of a small harbor in a city called Volendam in Holland. On that picture they showed a wooden pole to tie boats on. When the old lady saw that, she asked me:
´Ahhh, this is to make tortillas!!!!´
Well, we decided to agree with that! She was very pleased that we also make and eat tortillas in Holland! Yeah, how are you going to explain to a 63 year old Guatemalan lady that it is to tie boats on, and that we never eat tortillas in Holland!!
That weekend we went to Tikal with the family. We left Friday afternoon, and came back that Sunday morning. Well, it was my second time going to Tikal, but I have to say that it keeps amazing me these huge temples and Mayan buildings!! But I should ALSO mention that I will NEVER and NEVER visit the place again during this heat!! NEVER!
But okay, we arrived Thursday afternoon. Sara´s family slept in two little bungalows, and Sara and I would sleep in a dormitory with two other tourists, that was a little cheaper. After relaxing something and eating a good meal, we went into the National Park around 4:30pm. It was pretty late, since the park closes at 6, but it was a lot cooler, plus there were a lot less tourists. The result was that we saw a large group of monkeys, different parrots, and believe it or not, a wild toucan!! He landed right in front of us in a tree! Just amazing!! It was such a pretty animal, beautiful colors!! And it just flies there into the jungle!! Not even funny! Just amazing!!!
A tempel at Tikal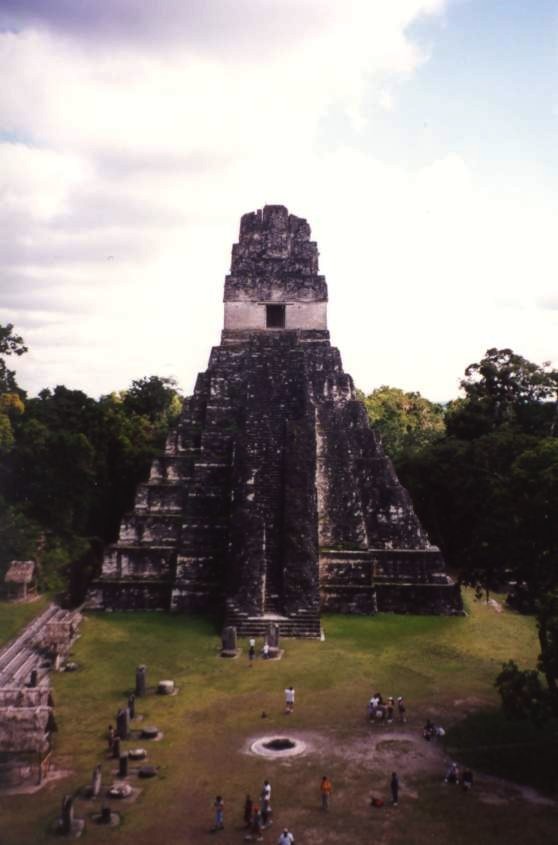 The tempels were actually closed for the public, but after paying a guard some money, Sara and her causing could go up one! Yeah, that´s how it goes here in Guatemala!!
Around 6 o´clock the park was going to close, but since it already got a bit dark, we wanted to get back to our hotel anyways. In Tikal they only have electricity until 9 o´clock, so just when we were eating our dessert, the lights went out! Luckily the personel of the hotel was prepared for that, and we could eat our fruit plate in the presence of candle light! How romatic!
It was pretty weird, because we purposely made reservations for rooms with a ventilator for Sara´s family, but yeah, without electricity, you´re nowhere with a van!
After relaxing a bit in the hammocks out on the porches of the bungalows, we decided to go to bed around 10:30 that night. Sara and I were getting back to our dormitorio. We just put on our pyjama´s, and I was just swollowing one of my malaria pills, when I saw this HUGE spider against the ceiling!!! Okay, it wasn´t a tarantula like the last time, but it was pretty HUGE!! Yeah, I really wasn´t going to close a single eye in here, I´m telling ya!! It wasn´t sitting straight above my bed, but pretty close!!! The other people in the room were already sleeping, but because of the light of out flashlight, one lady woke up. She said:
´It hasn´t moved for a long time, I don´t think it will move´
Yeah right lady, like I believe THAT! Plus it was easy for her, her bed was on the other side of the room!! I was practically right underneath the monster! She said again:
´You have to, whatever, just ignore it´!
Yeah I don´t think so, forget it with your ´just ignore it´!
When Sara also shown her flashlight on some huge cockroach on the wall, that lady had enough of it! She took her slipper and just killed the poor animal in one movement! Unfortunately, when we asked her if she wanted to do the same with the spider, she said she was too scared!
Anyways, after thinking of all possibilities, we decided to go to sleep in the hammocks on the porches of the bungalows of Sara´s family. Not THE best solution, but I was certain I would at least get a bit more sleep then sleeping in this room with this HUGE monster above my bed!
So we crawled into our light sleeping bags and tried to enjoy our sleep. Well, it was my second time sleeping in a hammock. When we were SO incredibly called the other time in Yaxhá, we were extremely HOT here in Tikal! I couldn´t remove my t-shirt, because I knew I would be attacked by hundreds of mosquitos. I sprayed myself three times with DEET mosquito spray, I was laying in my sleeping bag, I was wearing a t-shirt and believe it or not, I was attacked by those animals like they hadn´t eaten in days! I have never had so much mosquito bites!!
But despite of all, I did get some hours of sleep! And although I rather wouldn´t want to do this again, it was a pretty cool experience! Sleeping in a hammock, listening to the sound of the birds and the howler monkeys, just great!!!
Stairs to go up the piramid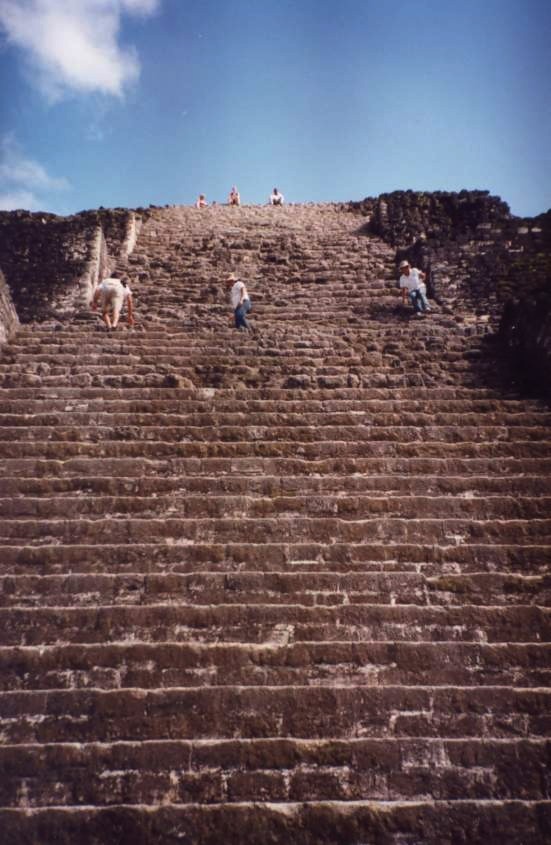 The next day after breakfast we decided to go into the park pretty early. We had our water bottles with us, which were definitely necessary! We walked a big part I have to say! Unfortunately some tempels were closed for tourists, because a few days ago somebody had fallen down one of them! But we were actually okay with it, because the heat wouldn´t really let us climb them anyways! Around 12 o´clock we were dying for a coke and a meal! We only had to climb one tempel, which is the only tempel with a wooden stairs, and with the pretties view of the jungle of Petén. After some thoughts, the whole family decided to go up, and they definitely thought it was worth it!
And believe it or not, we had just climbed down again, and yeah, we saw a Nhtv-er!! Some girl who also goes to our university!! She was doing her internship in Belize, and I guess her parents were also visiting her. Yeah, what a coincidende!!! We didn´t even knew she was doing her internship in Belize!!! I mean, the world is pretty big, but even Tikal National Park is pretty big!! And still, on the bottom of tempel 4 you meet somebody from your school in Holland! So that was pretty funny!
When we got back to our hotel, drank some cokes, ate some meals, showered, slept it had already became dark. Yeah, with this heat you only want to lay on your bed underneath a van doing nothing at all! Sara and I had found a different hotel for that night. Just a cheap room, NO spiders, nice beds and that hotel had electricity until 11 o´clock, so we could enjoy the fresh air from our vantilator a bit longer that night!
That Sunday morning we left for Flores again. Yeah, Tikal is great, but again, NEVER with this heat!!!
That monday morning Sara´s family left for the South of Guatemala to travel around a bit. I had a nice surpise trip that week. I think I already wrote once about Luna, the girl from Spain who does voluntary work in Guatemala as well. The one who came to Petén and with whom I visited these communities in the Petén area.
Anyways, I heard she was going to the Izabal department for more workshops in a community near Livingston, the little town where Sara and I had spend a weekend once. It´s about 5 hours from Flores, AND 5 hours from Guate City, so I decided to go and join her and two other people. Another girl from Guatemala City, Hilda, came with, and another boy, gringo from the US, Gareth as well.
I left Thursday afternoon with the bus to Puerto Barrios. It was kindof funny, because we arrived at the EXACT same time, okay, 2 minutes difference, in Pto Barrios. And that is pretty amazing for here in Guatemala, because busses really don´t have time schedules!!! So yeah, we were pretty lucky with that!
I thought, Pto Barrios is situated a bit more to the South near the Caribean sea, so it must be a BIT cooler compared with Petén, but unfortunately NO!!! I couldn´t escape the heat!!
We slept in a hotel in Pto Barrios the first night, with the four of us in one room with a ventilator. However that thing only had one volume, and that volume was SO low, that you couldn´t notice ANYTHING!!! But okay, that was only for one night!
Friday we had to get up early, around 5 o´clock, to catch the boat of 6:30 to Livingston. From Livingston we had to walk TWO hours with our our luggage through the jungle in this incredible HEAT!!! The walk was very very beautiful!! For our Dutch people, it was like the attraction Droomvlucht in our attraction park the Efteling, little streams to your right, colorful flowers, the whole smell, just the whole jungle athmosphere there was amazing!! Although I would have loved to have those little carts just as in that attraction! That would have made it a lot easier!! haha! But yeah, can´t have everything!!
The walk itself was okay, it was just the incredible heat which was unbarable!! I have never, but then never, in my entire life of almost 22 years, been sweating more then I did over there in the jungle at that moment!! Not even funny!! at one point we decided to sit down and relax a bit, and sweat was just dripping off of me, from my legs, head, just every body part. It was incredible! It seemed like I had taken a shower with my clothes on, just horrible!
After relaxing a bit, we decided to continue. I asked the guide if there weren´t any snakes in the area, and he was sure that there weren´t any at that time. But yeah, he hadn´t finished his sentence, or some little snake crossed my path right in front of my feet!! It was a little one, but it was a bit scary! Plus I knew that one of the most dangerous snakes here in Guate is also very little! But the guide assured me that these dangerous snakes would only come out at night. Yeah, didn´t you just tell me there weren´t ANY snakes here???
After the two hour walk, we were extremely happy to see the roofs of some little houses in the middle of the jungle. The community was very small and was situated in some small valley in the middle of the jungle. It was only reachable by walking two hours in the jungle! Amazing! Within this community here lived 19 Maya families, who could only speak their Mayan language Qéqchi. They lived very basic, in houses made from sticks and clay, which had dried out leaves as roofs. The houses only had one room where they would eat, sleep and cook on a fire. And definitely no lack of farmer animals! There were tons of chickens, pigs, ducks etc, walking around! Just amazing to see all of this! Welcome to Guatemala!
It was pretty amazing too, because for the tourists the had build this really nice wooden building with four really nice rooms each of two beds. It was beautiful!! There were two rooms upstairs. Hilda and Gareth shared a room and Luna and I shared a room as well. The beds were made from wood and had very comfty matrasses!! There was even a nightstand, a table with chairs, and even a mirror on the walls! It was unbelievable!!!
After dumping our stuff, we decided to take a shower. The showers were also very neat! There were two wooden cabins, clean and beautiful made! In the middle there was a huge bucket with water, and each little shower cabin had a small bucket with half of a coconut. Yeah, just a bucket, some water and a coconut was a miracle for us! We could shower!!! We were SOOO happy!! However not for long, because two minutes after your shower you would be sweating just as much again, but okay!
Even the toilet was amazing! It was still this outhouse, but the pot was plastic, not flies, and there was even a bucket with a faucet and soap to wash your hands! Just these little things were amazing!!
When we relaxed a bit after our shower, it was lunch time around 12 o´clock. We ate in the house of one of the Mayan families, which was pretty amazing! We were surrounded by little kids and farm animals! haha!
Okay, the food wasn´t TOO great, but it was okay. The only thing that was missing was water, just plain water! They kept giving us this chocolate thing, which was cold, and it looked nasty. I mean, it was okay, but we were just dying for some water! And poor Hilda didn´t even like chocolate! But we couldn´t complain, because it was all very good!
That afternoon we had the workshop. During these workshops Luna tries to make a SWOT analysis of their project, Strengths, Weaknesses, Opportunities and Threaths. Is the project good, what is bad about it, what can they improve etc.
Because these people only speak their mayan language, there was one translator who translated everything. Which was pretty funny! Hilda and Luna were doing the workshop with the local peopple, and I have to tell you, they are good!! They kept doing little theater parts to explain examples, and all these Mayan ladies were just laughing so hard!
The workshop was held in a small rooms, and the women and men were sitting on beds. There were also a lot of kids in the room, yeah, can´t avoid them here in Guatemala! But it is amazing to see how these ladies just start breat feeding their babies. In the end Luna and Hilda decided to do a little game with them, which they really just loved! It was pretty amazing to see!
That afternoon we didn´t do much more then relaxing, because with this incredible heat you don´t want to do anything at all! And that night we had to go eat again at this families house. The only thing was that when we wanted to walk back, it was already dark! And since there was only limited electricity in the village, it was pitch dark!! Luckily we could borrow a flashlight, and after being attacked by some huge biting ants, we made it back to our rooms.
That night some local people played the Marimba for us. The marimba is THE instrument of Guatemala. Kindof hard to explain, but it´s kindof like a weird piano, where three of four guys hit on some things with sticks. Okay, bad description, but okay, you just have to see it for yourself! haha! And yeah, we danced together with the Mayan ladies! It was amzing! The whole athmosphere there in that room, the dancing Mayan ladies, the marimba music, all of this with oild lamps! Just great! Amazing!! And we were part of this!!! We also tried to dance some Marimba, but only Hilda was pretty good at it! Although we had a great fun with it!! And it was kindof funny seeing these Mayan ladies with their beautiful skirts, and then us with our shorts! But I was enjoying it to the fullest! These moments are only to be found in Guatemala! Just incredible!!
Around 10:30 we were dead and decided to go to sleep. The next day we had to get up at 5 again. We had to walk another long walk for about an hour and a half, and we were trying to avoid the heat. So after a wonderful breakfast of mashed black beans with two boiled eggs accompanied with tortillas and fried bananas, we left for the wild jungle again. We THOUGHT we would avoid the heat by leaving early, but that was a big disappointment! It was still incredibly HOT!! But after a walk of an hour and a half, we arrived at our destination. This was the project called Ak´tenamit. It was an amazing project!! We got a lot of explanation from this one American guy who had worked there for quite some time. They have an English website, for people who are interested:
Anyways, after drinking some cokes, we had to take the boat back to Livingston, where when arriving there, we had to take the boat back again to Río Dulce. Too bad, because I had to say goodbye again from Luna, Hilda and Gareth, but I had great fun with them, it was an amazing trip!!
Last monday Sara´s family went back to Holland again. So yeah, there came an end to all the trips and visits, and we are working again for 120%!!!
Anyways, that was one of my updates again for now! People thank you all for all the mail I receive! Just great! I really use it to decorate the walls in my room, and it looks a lot better! THANKS!!!
Hope everything is okay with everyone, and hope to hear from you!
Lots of love from Guatemala!!!
Adiooooooos,
Marjolein