Hola mis amigos!!!
Another email from the beautiful country of Guatemala! Everything is going pretty well over here, although I must admit that I had my first diarhea experience here last night! But yeah, it had to happen one time!
The past sunday Sara and I were brought to our hostfamilies in San José and San Andrés. We had to go with some kindof micro-bus, which couldn´t be called a microbus anymore, because it was almost falling apart of misery! And they can put an incredible amount of people in these small things! Not even funny! The road was pretty bad, it was just a dirt-rock road, and the bus was going all over the road! I thought I was gonna die! And believe it or not, but there was even some small kid that fell asleep during the ride! I couldn´t believe it!
Sara was the first one to get out in San Andrés, and I had to go on to San José. San José is a very cute little village, but their streets are incredibly steep! I´ve never seen streets like that! Not even in San Francisco! And I thought these tempels in Tikal were steep, no way!! These streets are even worse! And the thing is that my school, called Bio-Itzá, is right at the top of a hige hill!! AAHH!!
The little village of San José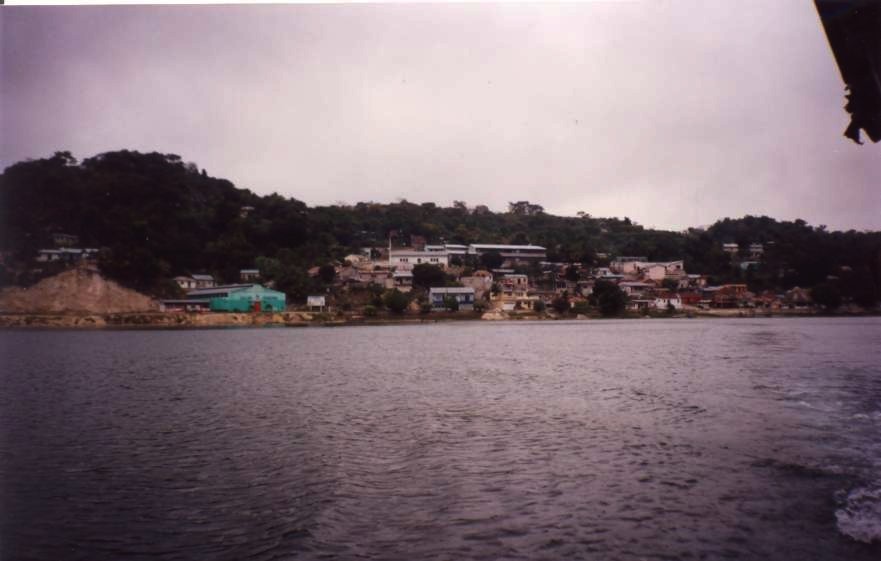 Speaking about rich Flores, the people in San José are a bit poorer. The houses are pretty plane, and there are pigs, dogs, chickens, roosters, cats and other animals walking around the village! Funny sight! I live with a hostfamily who is inredibly nice. Their house is pretty poor though, and the toilet is nothing more than an outhouse of some wooden sticks and some clay. There is just a hole in the ground and some small pot to sit on, which has a wooden cover. I don´t quite know why they use this cover, because it doesn´t make the smell go away!!! But always look on the bright side, and the cool thing is that there are a lot of holes in the walls of the toilet. The result is that I have the most amazing view while doing my thing there!!! haha!
No words needed.....
The shower is not much better either, but good enough! I have my own little house with a roof of leaves. There is a bed a desk, a chair and a little closet in the room, and they decorated it with posters and calenders! It looks really cosy!
The family has 7 children, forgot their names though, but they are all really nice. They all live in the smallest house, and I really wonder where in the world these people all sleep! I have to admit that the first sunday I was a little home sick! It´s such a change! I just wanted to go home! And Sara lives in San Andrés, which is 45 minutes walking in stead of 10! I never felt so lonely! It was also frustrating that I couldn´t talk much with the family. They don´t speak a word English, and after discussing the weather, your birthday and how many brothers and sisters you have, it get´s pretty boring! And you all know how much I can talk normally!!!
But Monday my first spanish classes started, and I have to say that I already learned so much! The classes are from 8 in the morning until 12, and in the afternoon are several activities. My teacher is Adérito, a nice boy of 22. He´s really nice, talks slow and I can understand him very well! He doesn´t only teach grammar, but he also talkes about traditions of San José and Flores. Really nice! And the other day he was talking about Gu-Be-cuarenta, and ya know Christel, he was talking about UB40!! I had to laugh about that!!
I can see that my spanish improves a bit every day!
Yesterday afternoon I washed my clothes (yeah, by hand!!) I took a shower, and I wa laying in the hammock enjoying the beautiful view of the Lake Petén Itzá. Their house is build on a hill. Okay, it sucks to walk up that hill, but the view is SOOO beautiful!! Every morning when I wake up and look out of my window! Just incredible!! It was a huge culture shock, but I will be fine! I am already enjoying it here!
The food is a little less though! Taste and volume! But that´s okay! They even give me the biggest portion! How nice of them!
Today we are in Flores. We came with a small wooden boat with some students from Sara´s school. It was pretty scary in the boat the first time, they put so many people in there! I thought we were going down!
There is still this festival here in Flores, and we are going to a concert of some Guatemalan group tonight, should be fun! And I can even sleep at Sara´s house, she has two beds in her little room, and I have to take one of those micro-buses back to San José the next morning.
Anyways, these were my adventures of San José, and my life right now! Pretty different, but a great experience! I will try to email again this weekend, we´ll see!
Love ya all!
Ciao,
Marjolein