Hola a todos!
Yeah I know, it´s been a while again, but believe it or not, I have been busy!! Plus I have been sick as well. I had a bacterial infection. I went to the lab here for some tests, and the anti-biotic that I got helped a lot, so everything is fine again! Don´t worry! But I have been busy travelling, but also busy working. The one moment you are taking a vacation to Livingston, than you are in Belize and then you are travelling to all the little communities in Petén for your work! But here is a long update, so don´t worry!
About three weeks ago, Sara and I went to Livingston for a weekend. We just wanted to get out of Flores for a change, and we thought Livingston was a neat place to go. It is a small located on the Caribean sea, South of Flores. We left Friday after work with a small micro-bus to Poptún, where we had to change busses to Río Dulce. It was in total about 5 hours driving. Yeah, from Venlo we would already be in Paris, but here we were still in Guatemala. From Río Dulce we had to take a boat to Livingston, but because it was pretty late, we decided to stay in a hotel, and leave the next morning. We met a funny and nice English guy who looked exactly like Michael Boogaard!! We hung out wit him for dinner and stuff, and the three of us took the boat to Livingston the next morning. The trip was about an hour and a half, and was beautiful! We saw huge pelicans in the harbor of Livingston!
Río Dulce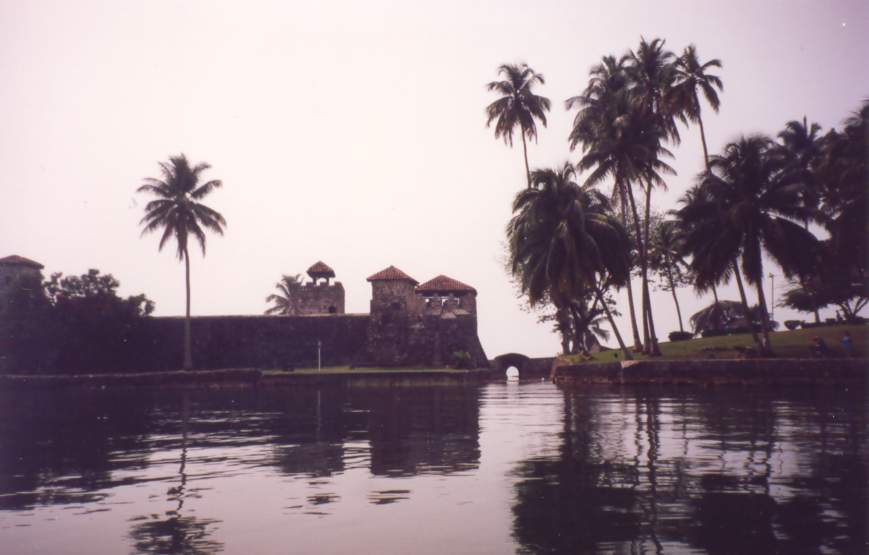 Livingston is situated on the Caribean sea as I said, but that sounds more exotic than it actually is! The town itself looks Caribean, with it´s wooden houses of all different colors, yellow, blue, orange, etc. Plus it is full with black people, like Bob Marly! Very strange, especially when you know you are still in Guate! But the sea is not pretty blue, and the beach is for sure not beautiful white! People there poluted the place a lot!
Livingston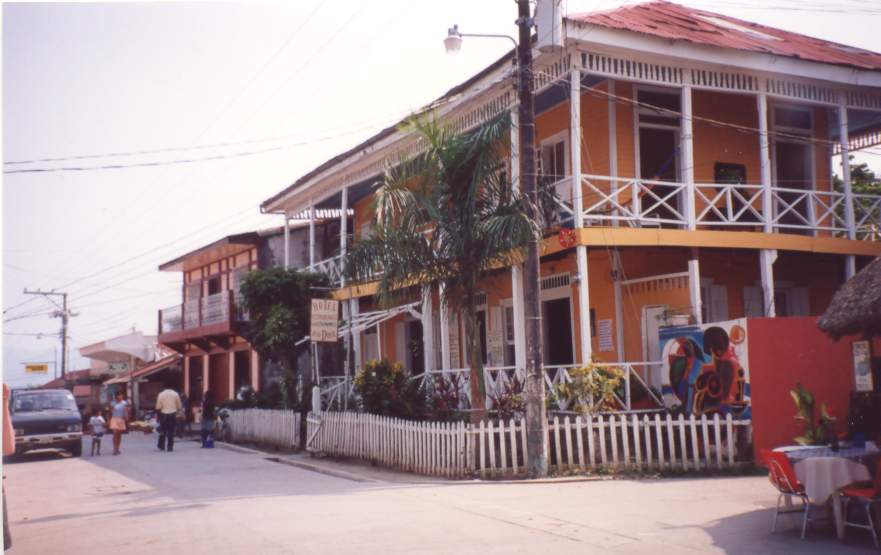 Sara wanted to have dreadlocks, so we searched the afternoon for people who could make them, however, without succes. Later that afternoon we decided to find a nice place to swim in the ocean. It was a long walk, but we found a nice place. The water was pretty nice, not clear, but okay. However when I got stung by a jelly-fish after 10 minutes, we thought it was not so fun anymore, and we decided to go back.
The next day we tried to find a nice place to swim again. According to the Lonely Planet there must be a nice place to swim at a site called ´siete altares´ where you had to go to with a boat. Thus we took a boat to ´Siete Altares´. However suddenly the boat stopped at near some rock in front of a jungle area. The guy of the boat said: ´Here is siete altares!´ So yeah, it was some site where there were 8 springs in the jungle! Thanks Lonely Planet! We just wanted a beach! We live in Petén, we have enough jungle around us! No more jungle on our vacation!!! Later they brought us to some other beach which was kindof okay, but by that time the sun had disappeared! So yeah, this vacation was not the best, but we ate the best piece of meat ever since I´ve been in Guatemala, so that was good! That afternoon we travelled back to Flores, since we had to get back to work on Monday!
Buuuut...last weekend our next vacation made it all up! We had to get a new visa, plus Sara´s boyfriend Machiel arrived in Belize, so we HAD TO go to Belize for this. Bummer!!! :-)
We left saturday morning, really early, with the bus to Belize. It was only a five hour trip. According to the Lonely Planet, we would take the ´Western Highway´ so we figured it would be a quick and smooth ride, but once again, nope! Sometimes you forget you are in Latin America, and Western Highways are totally different than Western Highways in the Western world! It was a road where we would drive 80 kilometers per hour, thus very small! That´s what they call highway here! Plus we came through a ton of villages, with tons of bumps on the road, so it was totally not smooth!
It was kindof funny, because it was immediatly noticable that Belize is a bit more developed compared with Guatemala. Their houses are a lot nicer, their property is fenced and some people even mowed their lawns! Plus the whole road from the border to the capital was paved!
The coast of Caye Caulker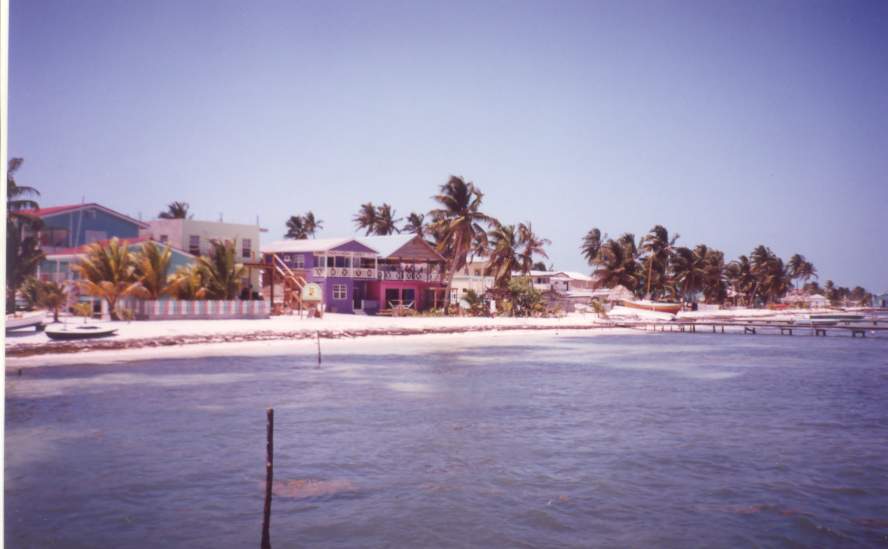 In Belize we stayed on one of the small islands on the coast called Caye Caulker. It was about 45 minutes by boat over the beautiful blue (yeah this time it was blue and clear!) Caribean Ocean. And yeah, this time we had a bounty island, with beautiful white beaches, blue and clear water, and cute wooded beautiful colored houses! It was super!
Despite the beautiful surroundings, the people were less nice. They all wanted to know your name and all wanted to help you, but if you made clear that you didn´t want help they would say: ´Don´t be rude you lady!´ Who is being rude then??
And another example:
One night we decided to go out for dinner in a restaurant named Habaneros. We had made reservations for a table with their advise, because it would get busy that night. So we went there that night for dinner. The tables were standing on some porch/Balcony type of floor. When we arrived, there was a large board-sign standing on our table with the text: ´reserved´.
Sara and I ordered red wine. There was a lot of wind that night, and when we arrived, the waiter forgot to take the board-sign away. Well, no problem at first, but then the wind blew the sign over, and it nocked over my full glass of wine. We had to move to another table, no problem, and I asked for a NEW glass wine. All well, but when the bill came, they made me charge for both of the glasses of wine! And it wasn´t even cheap, about 10 Belizean dollars, which is about 5 Euro, and 5 American Dollars. I totally didn´t agree with this, since it wasn´t my fault that the wind nocked over the sign, and the sign nocked over my glass.
The island of Caye Caulker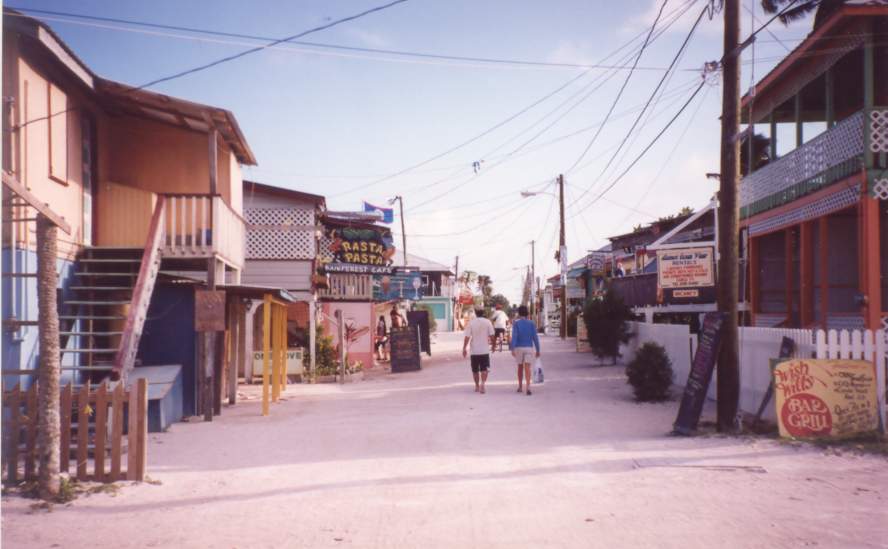 We explained the whole story to the waiter, and his answer was:
´Yeah, but it´s not my fault either!´
So I said, well, it´s not my fault either, and you want ME to pay for it all?? Then he said, fine, take the ten dollars off the bill. But we didn´t have the exact amount of money, and when we got back our change, the waited had not taken off the ten dollars. Geez, we got a little angry, but okay, we called the waiter one more time, and he said: ´yeah, my boss says that it´s not our fault so we don´t have to pay for it´
And I said: ´yeah but it´s not my fault either!´
The stupid idiot (sorry for my language) should have taken away the reservation sign! Then the waiter said: ´so yeah, we have a stand-off´. And I said: ´okay, but why do I have to pay for it then?´
Then he started arguing that I was whining about ten dollars, and ten dollars is not much blah, blah, blah....! I couldn´t believe my ears!!! If HE thought 10 dollars was not much, fine for him, then what is HE complaining about! Give them back to me! So then finally he went to get the money, and when we came back he said: ´and would you guys do me a favor, don´t come back to the restaurant!!!´
We just couldn´t believe it!! Unbelievable! And that´s what they call ´customer service´!! No way!
We kindof had to laugh about it, and we constantly made jokes about who had the gutts to go back and order another glass of red wine! But yeah, that was one example of the culture here in Belize! I am glad I am living in Guatemala!
Harry, me, Sara, and Machiel
The next day we went snorkling. One of our friends recommeded to go snorkling with some guy named Harry, so we went snorkling with Harry! And indeed it was amazing! Harry was really cool! There were three other people with us, all from the US. Snorkling here was different then snorkling in Thailand. Here we went snorkling in the middle of the ocean! There was a pretty strong wind, so it was not always easy! Because of the huge waves, I´ve had enough salt for the coming months!
But we saw pretty fishes and coral, however I do have to admit that Thailand was prettier!
But at some point Harry started to through some food into the water, which attracted HUGE fishes! Not even funny!!! First I was a bit scary, they were HUGE and they would come SO close at times, but after a while I got used to it, and it was an amazing experience!!!
It was pretty stupid, but we totally forgot to put sunblock on before going into the water. I mean, there was a lot of wind, which made it cold, and we didn´t really realize that the sun was so strong. The result: we were like red lobsters! I have NEVER been so burned in my entire life! It hurt SO bad! My legs, my back, and especially my but! We couldn´t even sit anymore! Luckily it turned into a pretty tan, so I think I belong to the category ´black person´ right now! :-)
The Caye Caulker beaches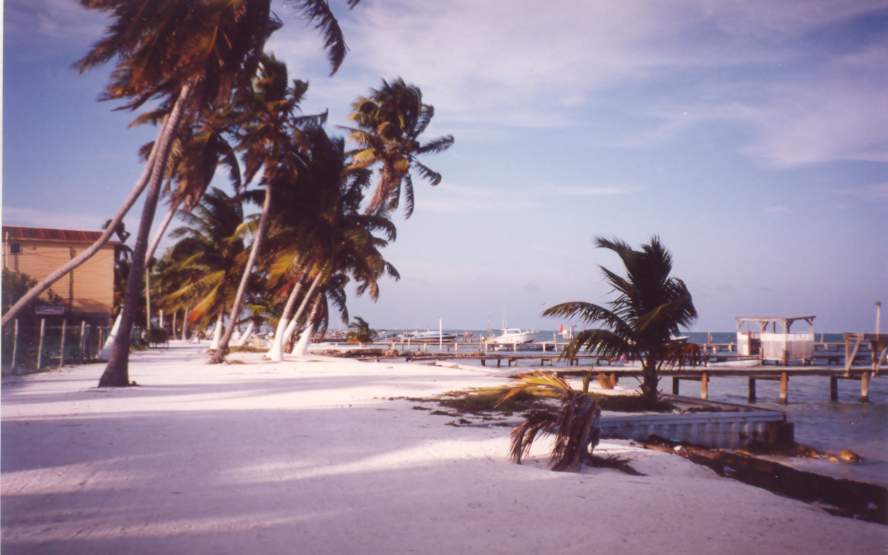 Anyways- that night Harry invited us to tour around the island with a small golfkart. That´s what they have all over the island there, instead of cars. Harry let us drive and he gave directions. He brought us to the ´country-side´ of the island. It was fun, up to the point when we were attacked by hundreds of mosquitos! It was SOO bad! Quickly back to the ´city´!!
It is pretty cool because most of the houses on Caye Caulker are built on poles. This is to pretect them from hurricanes, that the water doesn´t totally destroy the house. Pretty smart! Some houses are really high, and Harry kept saying: ´Look at the skyscrapers of Caye Caulker!´ hehe!
That night we invited Harry for dinner with us. Or actually, he had invited himself, but it was really cool!
However that Monday morning we had to go back to our own little island in Guatemala: Flores, yeah, we still had to work!!!
This week a lady from Spain, Luna, who works for an organization in Guate City, came to Peten. I sortof knew her a bit from one night that I slept in the same room with her in a hotel in Guate. That´s a whole story in itself, but I´ll spare you that!
Luna (right) and me (left)
Anyways, she came here to have several workshops in three different communities in Peten that work with Ecomaya. Sara and Machiel went to Tikal, and I went with Luna to help her a bit. It was great! Luna is really cool, and we had great fun! We laughed a lot together.
But yeah, Tuesday we went to the North of Peten, to a community called Carmelita. The distance from Flores to Carmelita is about 70 kilometers, but because of the bad road condition, it was about a two hour drive! The road is nothing more then sand, rocks, wholes and dust! When we arrived in Carmelita, we wanted to get some coffee with milk. Well, we got a glass with hot milk and the pot with instant coffee! it was kindof funny!
We had the workshop in a small building with some people of the tourism board of Carmelita. The workshop was about making a SWOT-analysis of their project. Oh yeah, there was also a scorpion walking around the building, like it was as normal as anything! There were about 4 people, of whom two of them were breastfeeding their babies! There were also lots of little kids, yeah, can´t ignore them here in Guatemala, who were making noise and screaming! It was pretty funny!
Last wednesday we went to the community of Paso Caballos. Sara and I had our first meeting there. Tere, a collegue of mine from Alianza Verde also came with us, because we would also go to the arceheological site el Perú. Tere is the editor of the magazine Destination Peten, and she has to write a story about the site.
A house in Paso Caballos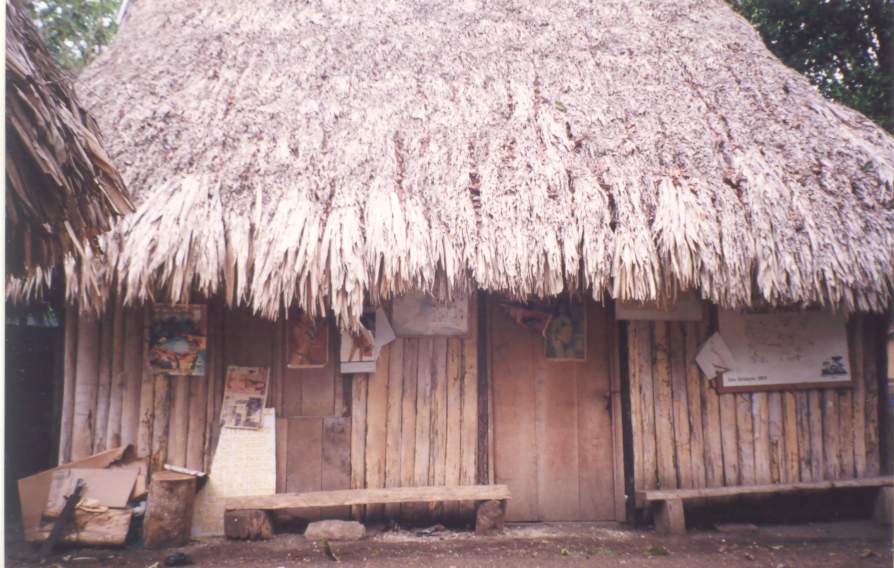 When we arrived there, we had to take a lancha, one of those small wooden boats to our first stop. Oh my God (Dios Mio), I can´t believe the boat survived! And I can´t believe we made it safe! The boat was nothing more then some wooden planks put together, and the wood was rotten, because when I accidently scratched it with my nail, part of it broke off!
But we survived!
Our first stop was some biological station in the jungle. That was really neat! They do research about the habitat of different jungle life. It was pretty interesting.
After that we went to the archeologal site El Perú. (no not the country Peru!). Normally it was a two hour walk all the way to the site, but we didn´t have much time, so we were running like maniacs! We walked up there in about an hour and a half! On our way we saw two beautiful Guacamayas. Those are parrots, huge parrots, red and different colors! Just gorgous!! Just in their natural habitat, amazing! I was too late with taking a picture, but actually this is something you should see with your own eyes, and not on a picture.
The archeological site El Perú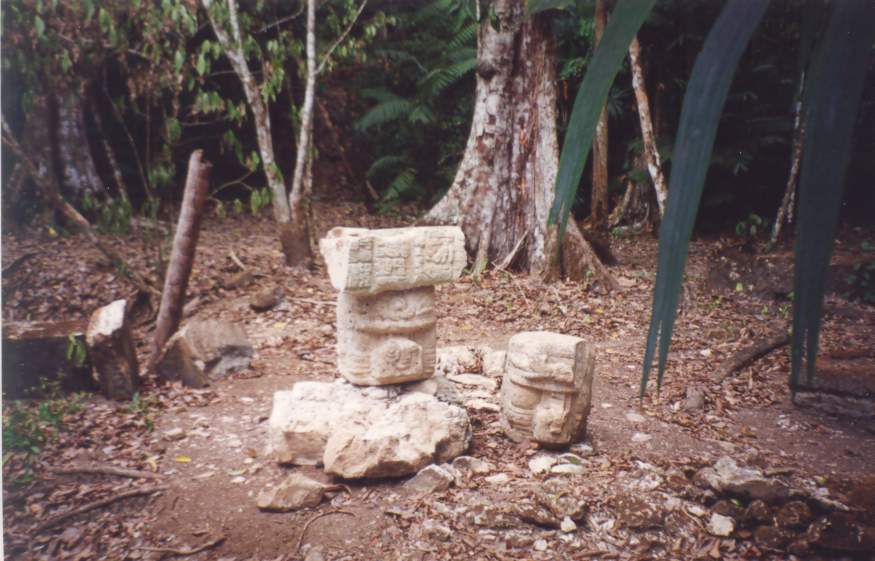 The site itself was not too excited after seeing Tikal. They had some miniscul temples and some stones with Mayan drawings on them. After walking around for a while, we had to go back again. And believe it or not, we walked it in about an hour!!! Although I should mention that I have to huge blisters on both of my feet now!
Back in Paso Caballos, Luna had her workshop. There were only a few people, so it didn´t take too long. In the mean time I was teaching Tere some Dutch. Yeah, she can say ´Ik wil pizza eten´ now, which means ´I want to eat pizza!´ haha! Very important to know!
A break from walking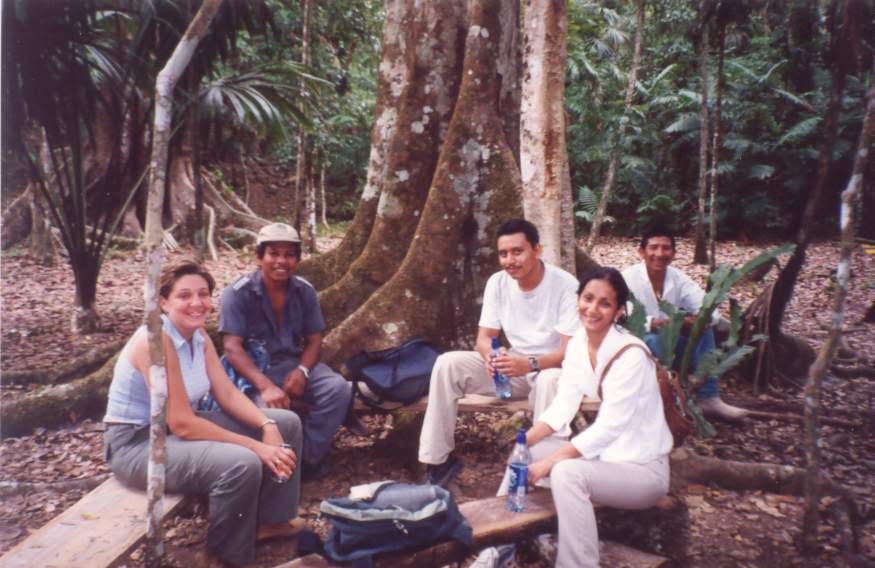 Luna, a guide, Erwin, Tere and Miguel (other guide)
When we were waiting for Luna, we were enjoying the whole Maya scene in front of us. The people here live off the river. There were beautiful Mayan women washing their beautiful colored clothes, and when they were done, they would walk home with a basket on their head! Amazing to see! Even the smalles little children would walk with cans of water on their heads! Unfortunately the people here speak the Mayan language Qeq´chi, so we couldn´t really talk with them.
Yesterday we went to the last community ´el Cruce de dos aguadas´. It was kindof funny, but we had the workshop with Christobal, Christobal and Christobal. And believe it or not, they were three brothers! They father´s name was, yeah good guess, Christobal! And he wanted that, if he would die, another Christobal would live, and if that one would die, another one would live, and so on! Yeah, that´s what you get, that all your kids are named Christobal! We had to laugh about it!
Anyways, but that was my busy work week! Travelled a lot, and those roads make you really tired. But Luna was great, she´s a wonderful person, and she does an amazing job with these workshops! With some people you just immediatly have a good time, she´s one of them!
Last night Sara and her boyfriend left for the South of Guatemala to travel around there a bit, so I´m all alone now! A bit boring, but it´s also nice to spend some time alone. And luckily I have nice collegues who will come by once in a while!
Lately we have a bit more contact with one of our ´collegues´ from Propeten, her name is Lucky (pronounced here as Louky). Her actual name is Lucrecia, beautiful name, but for some reason they call her Lucky here! I don´t remember if I´ve ever wrote you guys about her, but anyways. We had been emailing a lot with her before our trip, and I even talked to her on the phone a few times.
She´s 29 years old, and she´s together with a boyfriend for already 6 years. However.....during those 6 years he has been in Costa Rica for 2 years, she went to Africa for 5 years, and right now he is in Costa Rica again for about 6 months! Amazing! So in total they have been together for about 3 years!
When we heard that her boyfriend was in Costa Rice, we assumed that she was home alone, so we invited her for dinner a few times. However, after a few days we had to visit her at her house, and guess what? She is living with her family! It is not normal here to live with your boyfriend before you get married, which is pretty normal in Holland! Especially when you are 29 years old and you have a boyfriend for already 6 years! So we were pretty amazed by that!
But it became more surprising when we heard she had 9 brothers and sisters! Okay, that is not too weird here in Guatemala, but she is the youngest one, and her parents are about 78 years old! Her mother was 50 years old when she got her!! Unbelievable!! We couldn´t believe it! I guess that´s one of the cultural differences between Holland and Guatemala!
Next week they celebrate Semana Santa here, the week before Easter, which is the most important religious week here in Guatemala, and I am off!!! I am thinking about going to Antigua for those days. They say they have the prettiest processions of whole Guatemala there. Lune also asked me to go with her and some friends for a vacation in a place called el Estor, near Livingston. So I have some different options! We´ll see!.
Anyways, I think that was about it! For the people who would like to send me some mail, here again my adress:
Marjolein Breikers
Callegón Santa Ana, Avenida Flores
Ciudad Flores, Peten
Guatemala, C.A.

I love mail, so I can decorate my walls!
Hope everyone is okay and hope to hear your stories as well!!! Oh yeah, and in the mean while I also worked pretty hard as well, but yeah, that is a little less interesting to write. But just in case you guys were thinking this is one huge vacation here! Which it is not, although it sounds like that sometimes! :-)
Ciao,
Marjolein