Hola everyone!!!
Happy Easter!! Here another long update from HOT Guatemala! I have a lot of stories to tell you guys!
First of all I was alone last week, because Sara and her boyfriend went to the South of the country to travel a bit. Saturday night a collegue of me from Ecomaya, Jorge, took me to one of his papy-soccer games. I don´ t know how they call that in English, but you play it with five people on the field, instead of 11. It all goes pretty fast! Jorge was the goaly. When we entered the ´stadion´ I was the only gringa, or white person there. Everyone kept staring at me, and the little children came to sit around me and were touching me! It was pretty funny!! The matches were pretty entertaining, but I was also intregued by watching people. It was pretty late, but there were still young kids walking around, 3 or 4 years old. There were mothers breast-feeding their babies, and babies without daipers were crawling around. It was pretty amazing! Jorge´s team won big time, so that was cool!
Last week we had Semana Santa here in Guatemala. People say that you should celebrate that in Antigua, a city in the South, since they have the best and prettiest processions of Central America. Since the week was off for work, I decided to go. Sara and Machiel would also be there.
I left Tuesday night with the night-bus at 10:30pm to Guate City. That was about an 8 hour drive. The bus was pretty comfortable, although the airco was definitely not necessary! I was pretty cold!! And the stupid driver also turned on the radio at 3:30 am!! Hello! People are trying to sleep here!!!! But around 7am I arrived in Guate City.
That day was Sara´s birthday, and her and Machiel were going to climb a volcano. So they were out all day. First I went to our hotel in Antigua. I decided to take the famous chickenbus, since that was the cheapest way to get to Antigua. Well, that was a pretty awesome trip I tell ya!! You don´t want to know how many people they try to fit in one of these busses! Incredible! Three people on a seat for two!! Amazing! I was seated next to a Mayan lady with a little baby in a towel around her waist. During the ride her baby fell asleep, how I don´t know! The bus was making a LOT of noise, it sounded if it would fall apart any minute! Plus the ride was not really smoothly so to speak! But I thought it was a GREAT ride! Amazing! Just sitting between the local people stuffed in a chickenbus, driving through the hills and listening to Guatemalan music! These are the moments I enjoy the most! Just amazing!! Welcome to Guatemala!
The famous chickenbusses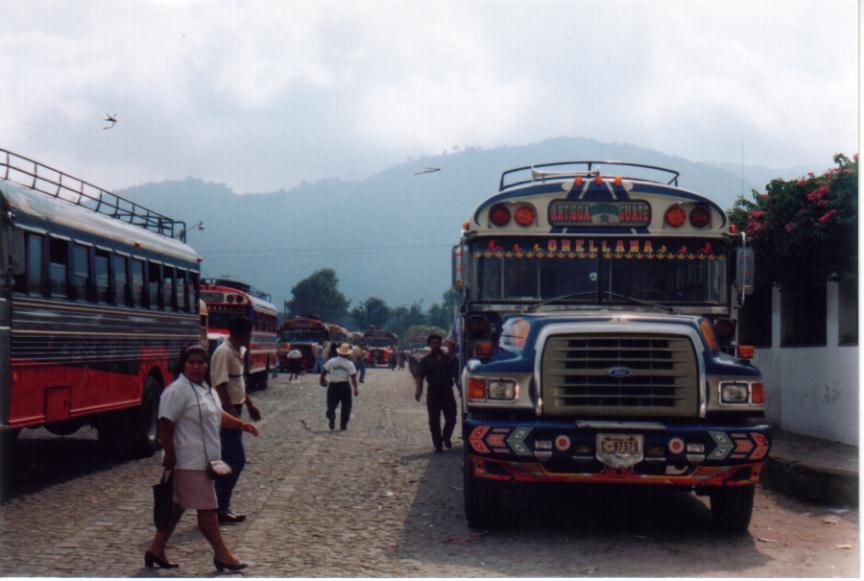 It was about an hour to Antigua, and after some looking and asking around, I found the hotel. I took a shower I tried to sleep a bit. Since Sara and Machiel would not come back until later that night, I was going to visit Luna at DosLunas. Luna is the lady from Spain, who came to Peten last week. She lives with Lorena in hotel DosLunas in Guate City. I also know Lorena pretty well, since I already slept in her guesthouse 3 times!
So that afternoon I decided to go and visit them. They organized a bbq, which was VERY good!! It was a fun afternoon!!!! In the evening I could get a free ride back to Antigua with one of Lorena´s friends.
That night Sara, Machiel and I decided to go for a drink for Sara´s birthday!
That next day, thursday, the BIG party would start herein Antigua. First I should describe the settings of the little town of Antigua, because this town is amazing!!! All the little houses, the town doesn´t really have high buildings at all, are painted yellow, orange, blue etc. which does really well with the pretty pink flowers that grow all over town. The town has a lot of pretty churches, a really nice park with a waterfountain!!! And then you have the vulcano Fuego, which is situated RIGHT next to the town! It is peaking in the sky over the town like a giant!! AMAZING!!! The town is of course bigger then Flores, and there were a LOT of people here for Semana Santa, so I had to get used to that a little bit I have to say! I hadn´t walked around in a big city for more then three months! haha!
Do you get the picture now?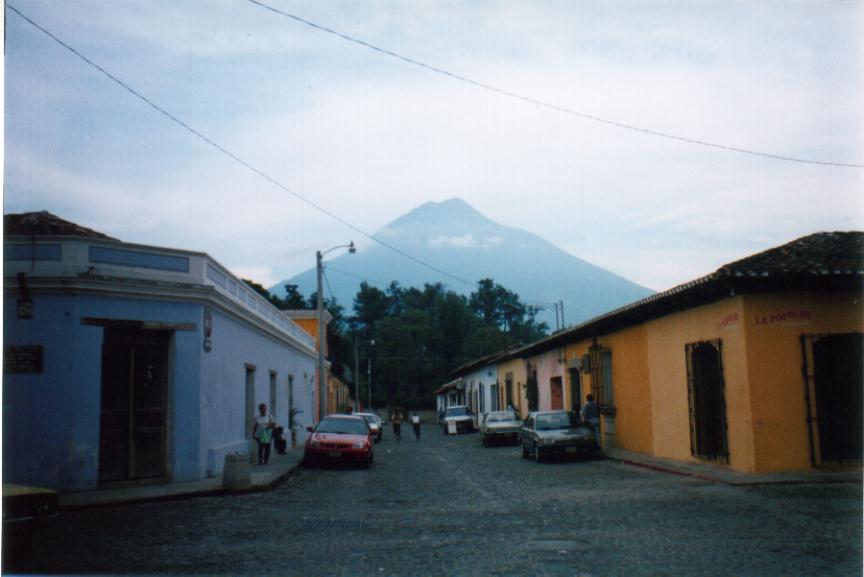 So that thursday all the processions started. Well, well well.....that was pretty amazing! To all my friends from Limburg: It was like the ´passie-spelen´ but then bigger! Today all the people in the processions were wearing purple outfits. At the end of the procession, people were carrying a HUGE platform with Jesus carrying his cross. It was just huge that thing! You could tell from their faces it must have been pretty heavy! Not even funny! There were several processions like these throughout the town. Amazing to see!
It was kindof funny, but surprisingly we ran into two people from our school! Sara and Machiel had also seen them in a town San Pedro. They were going to start their internship in Belize in May, and they were travelling around a bit! Pretty amazing to see them there!
Beautiful carpets, hand made!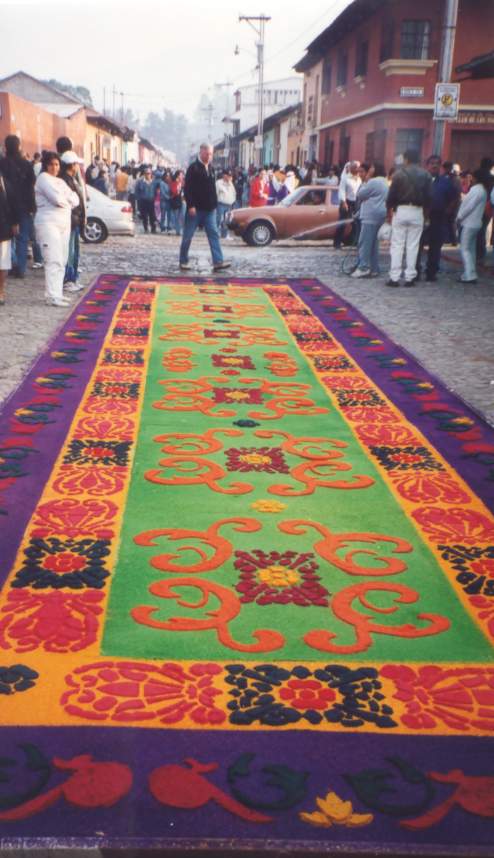 The next day, Friday, was going to be the most beautiful day! However the processions started really early, at 6:30, so we had to get up early. Sara and Machiel didn´t feel like getting up that early, so I went out by myself. It was amazing!!! The people of Antigua had put carpets out on the streets of the route of the procession. But not normal carpets, no, they were handmade with sort of a SAND! They would make a large square out on the street, and they would make little figures on them with coloured sand or something! What a work and how amazing to see!! Incredible!! They had also made carpets from leaves and flowers. All just incredibly beautiful!!!
I stood next to the road the watch the procession walse over them. This time the people were wearing purple outfits with white hats. And of course also this time people carried a HUGE platform with Jesus!!! It was amazing to see!
That afternoon at 1 o´clock Jesus was crucified, and at 3 o´clock they took him down. Then there was another procession through town, but this time Jesus was laying in a coffin and everyone was wearing black outfits. Yeah it was pretty amazing!
That night at 1:30am our bus would leave from Guate to Flores, because Sara and Machiel would go to Belize that Sunday. There was only one shuttle bus from Antigua to Guate at 6pm, so we had a lot of time in Guate before our bus to Flores would leave. Since Guate is not a very safe city, we could wait at Lorena´s guesthouse! Thank God! We sat there playing games, eating pizza, and listening to the love stories of Lorena and her Dutch boyfriend Henk! haha!
At 12:30 a taxi picked us up and brought us to the busstation. When we walked up to the bus at 1:30am, we coudn´t believe our eyes!!! It was not a touringcar, it was a chickenbus!!! No way!!! Honestly, who would even think of driving 8 hours to Flores with a chickenbus!!! Since the bus was pretty full, we ended up in the first seats of the bus, way up front. Which wasn´t that big of a problem, until the driver didn´t want to close his window, neither the door!!! Although Peten is pretty hot, the South is freezing, and I have NEVER been SO incredibly cold in my life!!! It was horrible! There was also no toilet in the bus, and the driver thought it was necessary to turn on the music REALLY loud so he wouldn´t fall asleep!! It was HELL!!! I was going to get out in Río Dulce, about half way, to get a hotel and wait for another bus, because I was dying there!! Luckily in Río Dulce it started to get light out, thus warmer and there was a stop to go to the toilet! So that was a lot better!!! I slept a bit the last few hours, but oh we were SO happy when we arrived in Flores!!! What a night!
That afternoon we went to a national park where they have several hanging bridges over the jungle. It was beautiful!! I do have to admit that it was pretty scary in the beginnen, the bridges were pretty long and high, but the amazing view was definitely worth it!!! We saw some monkey´s up close, and of course we heard them!!! Yeah, you can´t avoid these howler monkeys here in Peten! After walking for an hour and a half, it became a bit dark, and it was time to go home. Of course there were no busses anymore, so we had to hitch-hike. Normally no problem, but this time it took a while before finally someone stopped to take us to Santa Elena!!
That night was the last night of Machiel here in Flores, so we went for a drink in Marco´s restaurant. He liked t hat! He kept offering kinds of liqor! It was a pretty fun night, and it was a long time ago since I´ve had a headache from alcohol the next morning!
This morning they left for Belize. Right now her parents, her causing and his girlsfriend are there right now. They arrived there yesterday, and they are all going to Caye Caulker for one night together. Then Machiel will fly home again, and Sara´s family will come to Flores! Yeah, lucky month for Sara!
But yeah, that was my Easter week!! Different compared to eating eggs for breakfast and lunch all the time in Holland! Pretty amazing! I have to get back to working tomorrow, because doing your internship is not only partying!!
I would like to hear your guys´s easter stories!! Say HI to everyone for me, and hope to hear from you!!!
Ciao,
Marjolein
Click below to see more pictures of: