Sorry, I forgot to tell one more story that happened that saturday night right after I emailed you guys. Okay, so there is a party here in Flores right, so Sara and I went to the little square in front of the church of Flores to see what all was going on. There was some ceremony going on in the church, and we tried to see some of it. Suddenly the ceremony was over and they were lighting some fireworks. Scary!! There were soo many people around the place where they were lighting fireworks, it was soo dangerous!
The beautiful church of Flores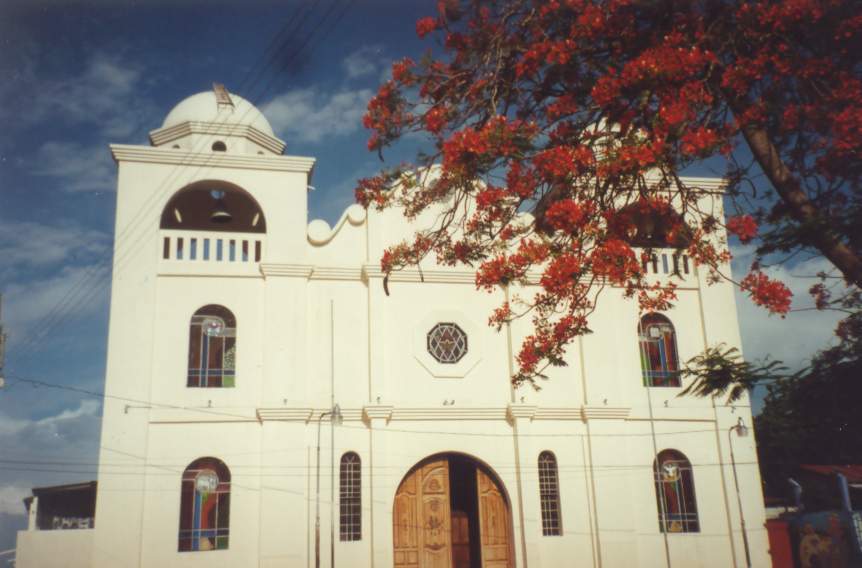 We backed up a little bit, to a safer spot. At least, we thought it was a safer spot. It was amazing to see how they lighted their fireworks. It was just one guy with the fireworks in his hand and he threw them into the air!! SOOO dangerous!! We couldīt believe it!!
But that wasnīt it! Suddenly everybody started to panic, children and people started to run away. We tried to ask some guy what was going one, but after some spanish murmling, we didnīt understand a thing! Suddenly Sara started to run away really fast, and the fireworks were all over the place! I couldnīt see what it was at first, but finally when we arrived underneath some tent where it was safe, I saw what it was. It was a huge fireworks monster!! It was some wooden animal that they made all covered with fireworks and what so ever. It was all over! There was some person underneath this animal, running around the plaza. We couldnīt believe how dangerous that was!!! The fireworks were all over and came soo close to people sitting on benches and stuff! SCARY!!!! That was another one of my almost-dead experiences! It was scary at first, but after a while we had to lauch about it! It was definitely a funny sight!
Anyways, just wanted to share this one adventure with you!
Adioooooos!
Marjolein